As soon as I entered what drew my attention was
the picture of Shirdi Baba. He was in a standing pose
wearing orange robes. But my eyes were drawn to
the hem of the robe which was slowly turning purple!!
I couldn't believe it.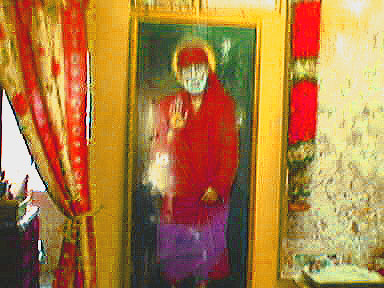 I asked Valliamma what color it had been when she came last
and she said it had been completely orange and now she
was also amazed to see this purple. We asked the old
lady about this and she said she had also noticed this
phenomenon which had started just a few days ago. It
was slowly turning purple.
You can imagine how happy I was. From beneath his feet
a type of oil keeps oozing and filling a vessel they have kept beneath.
In fact they have to syphon this out everyday. This oil is
supposed to be very effective for aches and pains. On
another side from the statue of the chinese goddess of
plenty, there was oozing another type of oil, greenish
in color which they said was good for the eyes.
They had recently got a photo of Sathya Sai which was at a
side and suddenly when I turned round there were
patches of vibhuti (ashes) on it. I pointed it out to
the lady and she said it hadn't been there before. She
was very happy to hear that I was coming from Rishikesh
and took me to the inner sanctorum where there was a
lot of all these three things coming from the various
pictures. She said that place was even more powerful.
I felt a strong presence of the Divine Mother there
and told her that the reason she was getting kum kum
and turmeric was because of the presence of the
goddess since normally in most Sai Baba places only
vibhuti comes.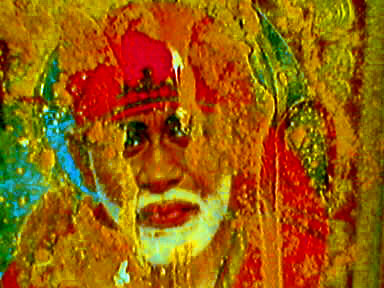 She was a sweet simple soul and was
very happy to hear this. She was also a Subramanya
bhakta and had recently got some prasadam from Palni,
which she insisted on sharing with me. I was really
happy since it was a Tuesday which is very special for
Subramanya. An idol of Ganesha had been kept in the
sanctorum to be blessed and we saw that it had been
covered with sandal powder which she said was a recent
phenomenon.
She lives in a predominantly chinese area
and apparently all of them have great faith in her
miracles and they come to collect the oil and vibhuti
and have even presented her with a big idol of Ganesha
which is kept outside in the garden. She seemed to be
really happy to see me and kept giving me all sorts of
things. Extra vibhuti and kum kum from inside the
sanctorum and fruits and flowers and a coconut etc.
Such a simple soul she was. Spoke only Tamil. It was
quite a remarkable experience and I would have been
happy to have stayed and meditated there for a few
hours but unfortunately the person who had taken us
was in a hurry to get home.
Love and blessings,
Mata Vanamali
(Please excuse the quality of the photos
which were taken with a cell phone)